11-01-14
November 1, 2013 - US spent trillions and left Iraq in violent pieces
As Iraq's prime minister visits Washington, BBC North America bureaux chief Paul Danahar, who was based in Baghdad during the US-led invasion, says the country America left behind is broken, and Middle Eastern strong men are flexing their muscles.
Only people with no long-term vested interest in the well-being of the subjects of a state could have conjured up Iraq.
Neither the country nor the political power structures within it would have naturally come about without the intervention of foreigners.
The Arab nationalism of Saddam Hussein's Baathism was a reaction to the selfish audacity of colonial rule.
The above is also broadly true in Syria. Neither country now necessarily has a future within its present borders.
03-12-13
Israeli, US, Jordanian Commandos Operating in Syria: http://www.jewishpress.com/news/breaking-news/report-isra...
===
WorldLeadersTV: UN S-G BAN KI-MOON in JORDAN
http://youtu.be/FMXlOmC3ax8
===
Obama and Ban Ki Moon, Secretary-General of the UN Security Council, close together...
===
As planned
December 2, 2013 - 'Bashar al-Assad implicated in Syria war crimes', says UN...
http://www.theguardian.com/world/2013/dec/02/syrian-officials-involved-war-crimes-bashar-al-assad-un-investigators
10-11-13
31-10-13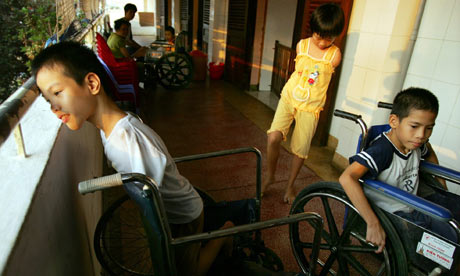 From 1961 to 1971, approximately 19 million gallons of chemical agents including Agent Orange, were sprayed over the southern region of Vietnam. Much of it was contaminated with dioxin, a deadly chemical. Dioxin causes various forms of cancers, reproductive illnesses, immune deficiencies, endocrine deficiencies, nervous system damage, and physical and developmental disabilities.
So while the US government is attempting to "police the world" in search of chemical weapons, it is important to remember the long history that they have of using these weapons themselves.
US Government refuses to compensate victims of chemical weapons in Vietnam.
30-10-13
US indirectly supports al-Qaeda in Syria: Franklin Lamb
Press TV has conducted an interview with Franklin Lamb, international lawyer, about French paper Le Figaro saying after Saudi Arabia, the US is second in line to lead al-Qaeda forces fighting against the Syrian government.
What follows is an approximate transcription of the interview.
Press TV: Let's jump right in. Give us your opinion on the revelations by the French newspaper.
Lamb: Well I think they are credible. I think they are widely believed and have been over the past nearly one year as more and more similar reports and evidences surface.
So I think that even if we accept that Turkey and Qatar and Saudi Arabia, and I think we must, are overtly supporting al-Qaeda and the terrorist groups, I think the West is doing it indirectly maybe sub-rosa, maybe not totally comfortable with it but the combination of both forces means that the al-Qaeda has enormous fire power and enormous encouragement to expand its operations because of the funding from the West and the [Persian] Gulf.
Press TV: And how do you perceive the level and the extent of the involvement of those regional parties as revealed by Le Figaro, as you mentioned we have got Qatar, Turkey, of course Saudi Arabia and even former Lebanese Prime Minister Saad Hariri's name has come up?
Lamb: Well I think in an operation like this if they are in for an inch, they are in for a mile. There is no such thing as a penny operation here it is going to be substantial and we see that consistently.
Remember Libya; it was going to be a little operation. That was an all-out war. So I think history teaches us very clearly that they are going to have massive, massive arms in order to "achieve their victory".
So I think it is going to increase unless a stop is put to it.
AHK/HGH
http://www.presstv.ir/detail/2013/10/30/332149/us-indirectly-supports-alqaeda-in-syria/