16-11-13
Pan-Arabism, Nationalist notion of cultural and political unity among Arab countries
Its origins lie in the late 19th and early 20th centuries, when increased literacy led to a cultural and literary renaissance among Arabs of the Middle East. This contributed to political agitation and led to the independence of most Arab states from the Ottoman Empire (1918) and from the European powers (by the mid-20th century).
An important event was the founding in 1943 of the Baʿth Party, which formed branches in several countries and became the ruling party in Syria and Iraq.
Another was the founding of the Arab League in 1945.
Pan-Arabism's most charismatic and effective proponent was Egypt's Gamal Abdel Nasser. After Nasser's death, Syria's Ḥāfiẓ al-Assad, Iraq's Ṣaddām Ḥussein, and Libya's Muammar al-Qaddafi tried to assume the mantle of Arab leadership.
http://www.britannica.com/EBchecked/topic/878838/Pan-Arabism
Avigdor Lieberman, the ultranationalist Israeli politician, holds the future course of politics in the Middle East in his holds...
===
He was born in 1958 in Moldovia, one of the poorest and most obscure of the old Soviet republics. On leaving school, Mr Lieberman worked as a nightclub bouncer and a radio broadcaster in Baku.
In 1978, he was lucky enough to leave the former Soviet Union and emigrate to Israel, where he served in the IDF, and then studied for a B.A. in International Relations and Political Science from the Hebrew University of Jerusalem.
Lieberman was among the founders of the Zionist Forum for Soviet Jewry, and a member of the Board of the Jerusalem Economic Corporation and the Secretary of the Jerusalem branch of the Histadrut Ovdim Le'umit. He joined the Likud party and served as Director-General of the Likud Movement from 1993-1996. Lieberman was then Director-General of the Prime Minister Mr Netanyahu's Office (1996-1997). Lieberman also served as the editor of the Yoman Yisraeli newspaper. For a time, Lieberman was a member of the National Union Party (Ichud Leumi) party.
But the arrival of one million Russian-speaking immigrants after the Soviet Union's collapse in 1991 created an immense opportunity for Mr Lieberman. This huge constituency was waiting for a party to represent their interests and, spotting his chance, he left Likud to found Yisrael Beiteinu (Israel Our Home) in 1999. Yisrael Beytenu advocates "the complete cutting of ties with Gaza and its separation from the West Bank".
Avigdor Lieberman was elected to the Knesset in 1999, he served as a member of the Foreign Affairs & Defense Committee and State Control Committees, and as Chairman of the Israel-Moldova Parliamentary Friendship League.
In March 2001, Avigdor Lieberman was appointed Minister of National Infrastructures in the government of Ariel Sharon. He resigned his post in March 2002.
He served as Minister of Transportation from February 2003 until June 2004.
In the government of Ehud Olmert, Avigdor Lieberman served as Deputy Prime Minister and Minister of Strategic Affairs from October 2006 until his resignation on January 16, 2008, where he was supposed to focus on the threat posed by Iranian nuclear weapons.
Lieberman's party forced him to leave the government when Olmert began peace talks with the Palestinian Authority.
Lieberman rose to international prominence because of outspoken and often offensive and aggressive statements about Arabs and Palestinians. For example, in March of 2002, during the second Intifadah, Lieberman said ""if it were up to me I would notify the Palestinian Authority that tomorrow at ten in the morning we would bomb all their places of business in Ramallah, for example." This caused some outrage, but at the end of March, Israel launched 'Operation Defensive Shield'.
Lieberman advanced a peace plan under which Arab areas of Israel including Umm El Fahm would become part of a Palestinian state. Though many Israeli Arabs identify themselves as "Palestinians," they nonetheless objected to this plan as racist. Only about 15% would be willing to live under Palestinian rule according to various surveys.
Lieberman questioned the loyalty of Israeli Arab politicians, some of whom openly sided with the Hezbollah in the Second Lebanon War in 2006 and with the Hamas during Operation Cast Lead in 2008/9. He called for denial of citizenship for those where are unwilling to take a loyalty oath.
In the elections of 2009, Lieberman's aggressive approach and attacks on supposed disloyalty of Israeli Arabs won him support from Israelis. His support was especially strong in southern towns like Ashdod. His great success was to mobilise Israelis who believe that concessions to the Palestinians lead nowhere – and events in Gaza have helped him. Yisrael Beiteinu received 15 mandates.
Since 2001 Lieberman proposes also to establish four townships in the occupied West Bank, hermetically sealed, which would be grouped the Palestinians. He sees it as a solution for the Palestinian citizens of Israel, who are more than one million, to move the vast majority of the group in tightly closed, self-administered areas.
Thus would arise a State ethnically homogeneous from the Mediterranean Sea until the Jordan, sheltering in its midst Palestinian "Bantustans".
Avigdor Lieberman has been the subject of several police investigations, several of which are currently ongoing, for money laundering and allegations of bribery. According to Israeli journalists he spends a good deal of his time in the former USSR on business that is unaccounted for, and may involve illegal activities.
===
November 10, 2013 - 'Israeli cabinet approves Avigdor Lieberman's return as foreign mininster'
http://www.telegraph.co.uk/news/worldnews/middleeast/israel/10439150/Israeli-cabinet-approves-Avigdor-Liebermans-return-as-foreign-mininster.html
November 12, 2013 - Israel plans 'unprecedented' settlement expansion, 20,000 new units in the West Bank:
http://mondoweiss.net/2013/11/unprecedented-settlement-expansion.html
===
http://www.zionism-israel.com/dic/YisraelB.htm
===
In 1998, Lieberman called for the flooding of Egypt by bombing the Aswan Dam in retaliation for Egyptian support for Yasser Arafat.
In 2001, as Minister of National Infrastructure, Lieberman proposed that the West Bank be divided into four cantons, with no central Palestinian government and no possibility for Palestinians to travel between the cantons.
In 2002, the Israeli daily Yedioth Ahronoth quoted Lieberman in a Cabinet meeting saying that the Palestinians should be given an ultimatum that "At 8am we'll bomb all the commercial centers … at noon we'll bomb their gas stations … at two we'll bomb their banks …"
http://www.juancole.com/2013/11/liebermans-minister-palestinians.html
13-11-13
Israel plans 'unprecedented' settlement expansion, 20,000 new units in the West Bank
Adam Horowitz on November 12, 2013
Haaretz reports on a massive expansion of Israeli settlements in the West Bank which reporters Chaim Levinson and Barak Ravid describe as "unprecedented" in recent years. Peace Now Director Yair Oppenheimer says the new tenders reveal Israel's intention in the occupied territories, regardless of whatever negotiations are taking place.
Oppenheimer:
The [peace] talks are only for show. Behind the scenes, the government plans to destroy all chance of the two-state solution and flood the area with new settlements. The issue of the tenders is unequivocal evidence of Netanyahu's intention of sabotaging the chances for an agreement.
The new tenders originally included over a thousand units in the E1 area which would connect Israeli settlements in East Jerusalem to the large settlement Ma'ale Adumim, effectively cutting the West Bank in half. President Obama has said that Israeli expansion in E1 "would be very difficult to square with a two-state solution," and Netanyahu ordered a freeze on the E1 tenders after they were issued, apparently wanting to avoid even more confrontation with the U.S.
More from Haaretz:
The Housing Ministry has issued a tender to hire an architect to plan the construction of 1,200 housing units in the E1 area, which links Jerusalem and Ma'aleh Adumim in the West Bank, as part of a larger wave of tenders to construct some 20,000 housing units in the West Bank at a cost of NIS 45 million.
Prime Minister Benjamin Netanyahu was updated on the plan earlier Tuesday and shortly afterward ordered to freeze all construction plans in the E1 area. Officials in Netanyahu's office told Housing Minister Uri Ariel that he must immediately halt the tender for selecting an architect to plan the project in E1.
The broader plan of some 20,000 housing units encompasses several urban areas, as well as the Binyamin Regional Council and Gush Etzion. This is an unusually large and unprecedented planning tender in the last decade. The tenders are for planning only – some are skeleton plans, some are in a general urban building scheme and others in a detailed urban building scheme.
http://mondoweiss.net/2013/11/unprecedented-settlement-expansion.html
===
April 14, 2004 - 'Arafat Warns U.S. Could Kill Middle East Peace'
http://www.commondreams.org/headlines04/0414-07.htm
'US could kill Middle East Peace'
http://kruitvat.wordpress.com/2013/11/10/us-could-kill-mi...
3 hours ago - Abbas: 'Cancel Building or Peace Talks Over'
http://www.israelnationalnews.com/News/News.aspx/173940#.UoLEmvk2aLc
November 13, 2013 - 1 hour ago - Middle East peace process nears collapse
http://www.smh.com.au/world/middle-east-peace-process-nears-collapse-20131113-2xf86.html
http://www.middleeastmonitor.com/news/africa/8287-call-to-suspend-peace-talks-after-lieberman-is-reinstated
http://www.nytimes.com/2013/11/13/world/middleeast/netany...
(Our pictures are deactivated sometimes because of our critical publications)
11-11-13
This post titled 'Kuwait expelled thousands of Palestinians' was censored a few times...
The Iran-Iraq War from 1980 to 1988, the 1990 Iraqi Invasion of Kuwait, the first Gulf War and subsequent conflicts all generated hundreds of thousands if not millions of refugees. Iran also provided asylum for 1,400,000 Iraqi refugees who had been uprooted as a result of the Persian Gulf War (1990–91).
Nearly 2.2 million Iraqis have fled the country since 2003, with nearly 100,000 fleeing to Syria and Jordan each month between 2003 and 2006.
===
Palestinian Forced Displacement from Kuwait: The Overdue Accounting:
http://www.badil.org/en/al-majdal/item/1514-art07
Palestinians in Kuwait - Terror and ethnic cleansing
http://www.gulfwar1991.com/Gulf%20War%20Complete/Chapter%2010,%20Palestinians%20in%20Kuwait,%20Terror%20and%20Ethnic%20Cleansing,%20By%20Hassan%20A%20El-Najjar.htm
10-11-13
U.S. Secretary of State John Kerry (left) talks with Israeli Prime Minister Benjamin Netanyahu in Jerusalem
Israel Approves Construction of 1,700 New Settlement Homes
On November 15, 2010, U.S. President Barack Obama praised Israeli Prime Minister Benjamin Netanyahu for urging his cabinet to accept a U.S. proposal to extend a freeze on West Bank settlement building for 90 days. Under the plan, Washington would block UN resolutions critical of Israel, and supply Israel with fighter jets worth $3 billion. The US government also promised Israel that after the 90-day moratorium, they would not seek an extension, and settlement construction in the West Bank and East Jerusalem (all of which is illegal under international law) could continue unabated.
Chomsky: 'Middle East peace talks a complete farce'
http://www.salon.com/2013/09/05/chomsky_middle_east_peace_talks_a_complete_farce_partner/
The 'Washington Institute Middle East Peace Experts'
http://www.washingtoninstitute.org/experts
As a reminder:
April 14, 2004
Arafat Warns U.S. Could Kill Middle East Peace
RAMALLAH, West Bank – Palestinian President Yasser Arafat told the United States Wednesday it would kill all hope of peace in the Middle East if it gave assurances to Israel on keeping West Bank settlements.
Israeli Prime Minister Ariel Sharon is in Washington to seek support for a plan to withdraw from Gaza, but keep Jewish enclaves in the West Bank where Palestinians also want a state.
Palestinians fear President Bush will make landmark promises to Sharon that imply backing for Israel's occupation of land seized in the 1967 Middle East war and reject the eventual right of Palestinian refugees to return.
A statement from Arafat's office said such an agreement would "lead to the destruction of the chances for the peace process and security and stability in the region. It will also restart the vicious cycle of violence in the region and end all the agreements and commitments that have been signed."
Arafat urged rejection for any such deal from Arab states, Islamic countries and the world in general, saying it would violate international laws and cancel the "road map" peace plan that Bush has backed.
Read more: http://www.commondreams.org/headlines04/0414-07.htm
'Will Yasser Arafat poisoning report derail Middle East peace talks?'
http://www.csmonitor.com/World/Security-Watch/terrorism-security/2013/1107/Will-Yasser-Arafat-poisoning-report-derail-Middle-East-peace-talks-video
UN is responsible for the creation of an 'ethnically homogeneous' Israel
http://kruitvat.wordpress.com/2011/07/10/un-is-responsible-for-the-creation-of-an-ethnically-homogeneous-israel/
'Middle East Peace' - Nov 10, 2013 - Geneva 2 conference on Syria is 'waste of time'
http://www.presstv.ir/detail/2013/11/10/333916/geneva-2-talks-waste-of-time-snc/
09-11-13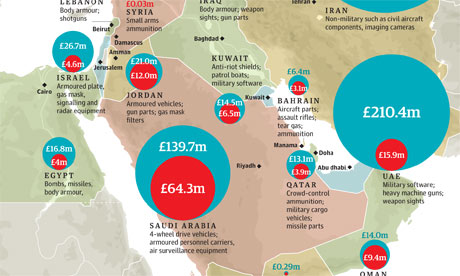 22 February 2011
UK arms sales to the Middle East and North Africa: who do we sell to, how much is military and how much just 'controlled'?
UK sales of weapons and arms to the Middle East are in the news. So what is the market, run by the government's Strategic Export Controls, worth?How big are arms sales to the Middle East and North Africa? The unrest in Libya, Tunisia, Egypt and across the region has brought attention to one of the UK's most successful export markets: military equipment.
It's a world shrouded in secrecy, and centred on giant arms fairs, such as Idex, taking place in Abu Dhabi. In the UK the international arms trade is managed by Strategic Export Controls, which grant licenses. They're not just for arms, but for a whole range of 'controlled' products. Here's the official take from the Department for Business, Innovation & Skills:
Let's look at Libya. The data shows that £215m worth of export licenses for controlled products were granted to companies selling stuff to Libya in the year to the end of September 2010. Of that amount, just under £8m were for equipment defined as military. Those products include riot control gear and tear gas.
Iran features on this list too, not for military equipment but for 'other' products - £424m of them. They include civil jet engines, chemicals and civilian aircraft.
What about the products classified under 'other'? Campaigners such as the Campaign Against the Arms Trade point out that policing what happens to equipment once it gets to a country is impossible. How do you know that a navigation system is not being used in a military aircraft rather than a civil jet?
We have collected this data together, from 1 October 2009 to 1 October 2010 - the first time that this data has been collected on one spreadsheet. It includes:
• All categories of license by Middle East and North African countries
• All the military breakdowns, by category
• A complete breakdown of licenses by country
Data summary