09-11-13
UK arms sales to the Middle East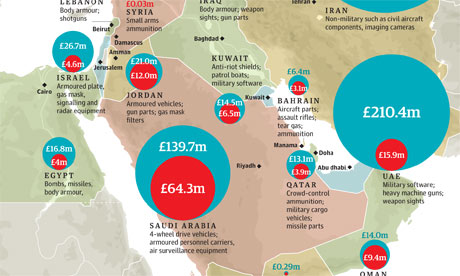 22 February 2011
UK arms sales to the Middle East and North Africa: who do we sell to, how much is military and how much just 'controlled'?
UK sales of weapons and arms to the Middle East are in the news. So what is the market, run by the government's Strategic Export Controls, worth?How big are arms sales to the Middle East and North Africa? The unrest in Libya, Tunisia, Egypt and across the region has brought attention to one of the UK's most successful export markets: military equipment.
It's a world shrouded in secrecy, and centred on giant arms fairs, such as Idex, taking place in Abu Dhabi. In the UK the international arms trade is managed by Strategic Export Controls, which grant licenses. They're not just for arms, but for a whole range of 'controlled' products. Here's the official take from the Department for Business, Innovation & Skills:
Let's look at Libya. The data shows that £215m worth of export licenses for controlled products were granted to companies selling stuff to Libya in the year to the end of September 2010. Of that amount, just under £8m were for equipment defined as military. Those products include riot control gear and tear gas.
Iran features on this list too, not for military equipment but for 'other' products - £424m of them. They include civil jet engines, chemicals and civilian aircraft.
What about the products classified under 'other'? Campaigners such as the Campaign Against the Arms Trade point out that policing what happens to equipment once it gets to a country is impossible. How do you know that a navigation system is not being used in a military aircraft rather than a civil jet?
We have collected this data together, from 1 October 2009 to 1 October 2010 - the first time that this data has been collected on one spreadsheet. It includes:
• All categories of license by Middle East and North African countries
• All the military breakdowns, by category
• A complete breakdown of licenses by country
Data summary