10-09-13
Latest News Syria: Google
SANA – Syrian Arab News Agency – وكالة الانباء السورية
Page Web inaccessible
Impossible de charger la page Web sur Google Chrome, car sana.sy n'a pas répondu à temps. Il est possible que le site soit bloqué ou que vous rencontriez des problèmes avec votre connexion Internet.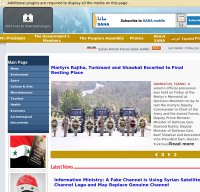 Syrian Arab News Agency
Website Name:
UP
Sana.sy is UP and reachable.
The website is probably down just for you...